Going to the Root: Libraries, Adult Literacy, and the Interruption of Generational Poverty
Saturday, June 24, 1:00pm – 2:15pm
Panelists (left to right)
Matthew Desmond
Author of Poverty, By America (2023) and Evicted: Poverty and Profit in the American City (2016)
Jai Winston: Moderator
Director, St. Paul, John S. and James L. Knight Foundation
Tracie D. Hall
Executive Director, American Library Association
Ken Bigger
Senior Fellow, ALA Center for the Future of Libraries
Deborah Kennedy
Executive Director, National Coalition for Literacy
Federico Salas-Isnardi
Director, Mayor's Office for Adult Literacy in Houston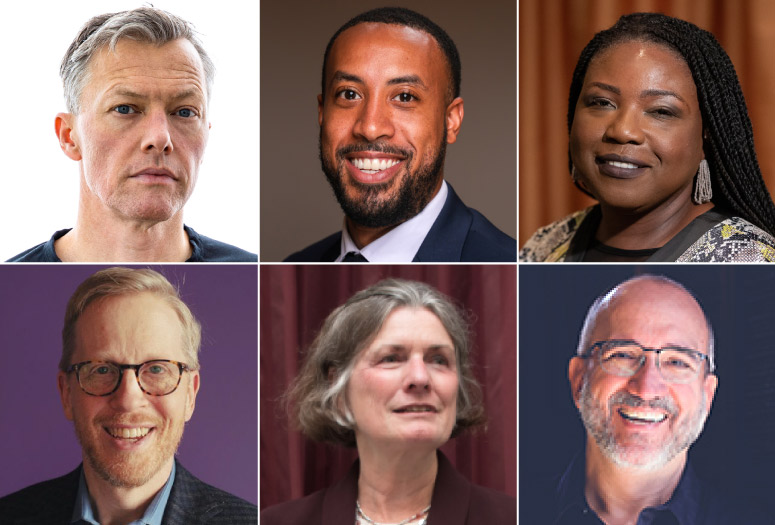 A Panel Discussion
---
Join ALA Executive Director Tracie D. Hall, author Matthew Desmond ("Poverty, By America;" "Evicted") and a panel of thought leaders for an exploration of how libraries can respond to the intersections between low literacy in adults and structural issues including the poverty and housing insecurity that Desmond addresses in his writings, as well as public health inequities and over-incarceration. Gain firsthand insight into Desmond's research and learn how ALL IN: The Adult Literacy & Learning Impact Network and the National Action Plan for Adult Literacy are providing solutions; and how library-based literacy coordination efforts might just be the intervention needed to respond to the scale of this issue.
Desmond will sign books outside the ballroom immediately after the session.
Matthew Desmond
Author and Sociologist
Matthew Desmond is the Maurice P. During Professor of Sociology at Princeton University and the founding director of the Eviction Lab. His last book, "Evicted: Poverty and Profit in the American City," won the 2017 Andrew Carnegie Medal for Excellence in Nonfiction, the Pulitzer Prize, the National Book Critics Circle Award, the PEN/John Kenneth Galbraith Award, among others. When accepting the Andrew Carnegie Medal, he told librarians, "this one means a lot, because ALA was one of the first promoters of my book." The recipient of a MacArthur Fellowship, Desmond is also a contributing writer for The New York Times Magazine.
---
Jai Winston- Moderator
Knight Foundation Director of Community and National Initiatives for Saint Paul (MN)
Winston has been serving as a program director on the community and national initiatives team at Knight Foundation since 2016, where he leads the foundation's initiatives in building a more vibrant, healthy, and equitable community of entrepreneurs, startups, and small businesses in St. Paul, Minnesota with a multimillion-dollar active grant portfolio and more than $1 million in annual grant-making. In this role, Jai has prioritized investments that focus on accelerating economic growth and business development within the downtown area—with a strong emphasis on supporting entrepreneurs of color. Previously, Winston was an associate of strategy and corporate development in the Office of the Chairman and Chief Executive Officer at Ariel Investments, a minority-owned money management firm in Chicago. At Ariel Investments, he focused on working with senior members of the firm and on other firm-wide strategic initiatives. In addition, he co-led several of the CEO's special projects, including some of the firm's national work on financial literacy and minority entrepreneurship. Prior to joining Ariel Investments, Winston spent four years working at the nexus of politics, policy, and business. He worked on the 2013 Presidential Inaugural Committee with the White House Office of Intergovernmental Affairs. He served on the finance teams for President Barack Obama's 2012 re-election campaign and the 2012 Democratic National Convention Host Committee. Winston serves as vice chairman on the board for the Illinois Humanities Council and is also a trustee for Hamline University, serving as chair for the trusteeship committee. He is a member of the St. Paul Downtown Alliance board, and a member of the Community-First Public Safety Commission, appointed by Mayor Melvin Carter. Winston earned a bachelor's degree in political science from Howard University in Washington, D.C.
---
Tracie D. Hall
Executive Director, American Library Association
Tracie D. Hall is the tenth Executive Director of the American Library Association (ALA), the oldest and largest library association in the world with over 50,000 members serving library and educational institutions throughout and beyond the US. The first Black woman to helm ALA in its nearly 150-year history, Hall has served in numerous library and arts leadership positions nationwide. Her former posts include Culture Program Director at The Joyce Foundation where she was recognized for creating numerous programs to advance racial inclusion in arts administration and equitable funding for arts institutions including the Chicago Black Dance Legacy Project; Deputy Commissioner of Chicago's Department of Cultural Affairs and Special Events where she oversaw the visual and performing arts, film, and community market programs and received citations for her work to expand arts access and neighborhood outreach; Vice President of Strategy and Organizational Development at Queens Library where during her tenure she founded the NYC Early Learning Network; Community Investment Strategist and Chicago Community Investor for the Boeing Company's Global Corporate Citizenship division; Assistant Dean of Dominican University's Graduate School of Library and Information Science; Community Librarian at Hartford Public Library where she curated the NEH-funded Festival of Caribbean Literature with the Connecticut Center for the Book and where then mayor, Eddie Perez, designated February 13 as "Tracie Hall Day" to acknowledge her service to the city of Hartford; Youth Services Coordinator at Seattle Public Library where she developed the long-running SCRIBES youth creative writing program for the Richard Hugo House; and other library, non-profit, and public sector roles across the country. Holding dual bachelor's degrees from the University of California Santa Barbara, and master's degrees from the Yale University School of International and Area Studies and the University of Washington School of Information, Hall's work in library and arts administration has focused on advancing early and adult literacy, expanding broadband access, advocating for arts and educational programs and services for people who are incarcerated, and increasing socio-economic mobility in communities that have had limited educational or employment opportunities. In 2022, Hall became only the second librarian to be honored with a National Book Foundation Award for Lifetime Achievement. Most recently, she was named the 2023 recipient of the Literacy Leader Award by scaleLIT and in April of this year, TIME named Hall to the TIME100, its annual list of the 100 most influential people in the world. A native of south central Los Angeles, Hall lives in Chicago where she makes time to serve on the boards of various arts, educational, and community-based organizations.
Ken Bigger
Senior Fellow, American Library Association Center for the Future of Libraries
Ken Bigger is a Senior Fellow at the American Library Association's Center for the Future of Libraries, in partnership with the Barbara Bush Foundation for Family Literacy, through June 2023. He is the former Executive Director of the Chicago Literacy Alliance, where he led the development of the Equity Through Literacy Framework and the Literacy Equity Initiative. He received his Ph.D. in Religious Ethics from the University of Chicago in 2005.
---
Deborah Kennedy
Executive Director of the National Coalition for Literacy
Deborah Kennedy leads the National Coalition for Literacy. In that role, she conducts advocacy activities at the federal level on behalf of adult basic education and English as a second language program throughout the United States and provides training in advocacy techniques for professionals in the field. Kennedy has deep expertise in English for specific purposes, with a focus on English for the workplace and life skills English. An experienced teacher, materials developer, teacher trainer, and program director, she has taught in and directed programs for adult English language learners at every level of proficiency from basic/beginning through advanced professional and is experienced in online and face-to-face modes of instruction. She has over 25 years of experience working with governmental agencies and nonprofit organizations and was formerly the Associate Vice President for Adult English Language Education at the Center for Applied Linguistics. Kennedy holds degrees from Boston University, Harvard University, and American University, as well as a certification in online instruction from Quality Matters and a certification in Developing an Online Teaching Program from TESOL International.
---
Federico Salas-Isnardi
Director of the Mayor's Office for Adult Literacy in Houston
Federico Salas-Isnardi is director of the only Mayor's Office for Adult Literacy in the country. He is a linguist, educator, diversity trainer, and writer who has worked in adult education in Houston for over 30 years. Salas-Isnardi has presented or facilitated hundreds of professional development workshops and seminars and is a regular speaker at professional conferences on topics ranging from second language acquisition to anti-bullying education and from literacy and employability skills in the 21st century to identity and privilege in a culture of respect. Salas-Isnardi is a published author of ESL textbooks and a certified Diversity Trainer.  He has been active in professional, arts, and community organizations for more than 25 years.