ALA President's Program 
---
Lessa Kanani'opua Pelayo-Lozada &
Hinaleimoana Wong-Kalu
Sunday, June 25: 3:30PM―5:00PM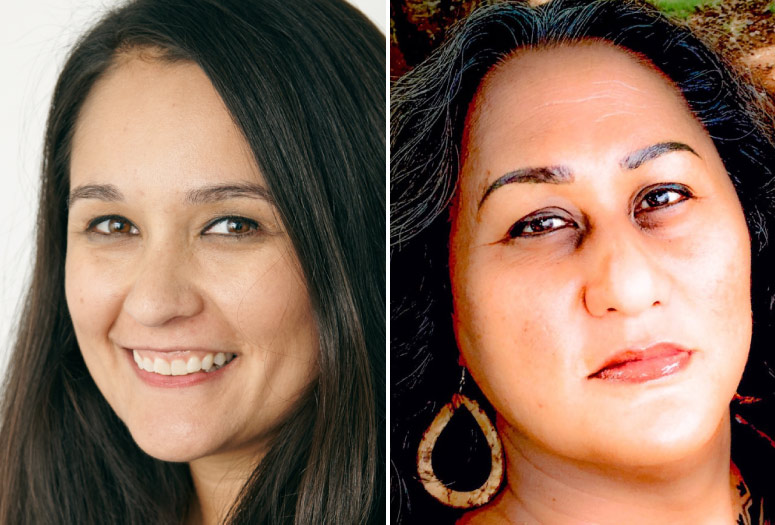 In Conversation
---
Join ALA President Lessa Kanani'opua Pelayo-Lozada and cultural practitioner and award-winning filmmaker and author Hinaleimoana Wong-Kalu in a thought-provoking discussion about Native Hawaiian philosophy and traditions, and the contributions Wong-Kalu has made to the Native Hawaiian and LGBTQ communities.
A book signing will take place outside the ballroom immediately after the session.
Lessa Kanani'opua Pelayo-Lozada
---
Lessa Kanani'opua Pelayo-Lozada, adult services assistant manager, Palos Verdes Library District, Rolling Hills Estates, California is the 2022-2023 president of the American Library Association (ALA). Pelayo-Lozada is a past ALA executive board member (2017-2020) and was elected a councilor-at-large for three terms (2012-2015, 2015-2018, 2020-2023). She is a member of the 1876 Club, the Association for Library Services to Children (ALSC), Core: Leadership, Infrastructure, Futures (Core), the Public Library Association (PLA), the Rainbow Round Table, the Graphic Novels & Comics Round Table, and the Sustainability Round Table. She also is a member of several ALA Professional affiliates, including the Asian-Pacific American Librarians Association (APALA), the Black Caucus American Library Association (BCALA), the Chinese American Librarians Association (CALA), American Indian Library Association (AILA), and The National Association to Promote Library and Information Services to Latinos and the Spanish Speaking (REFORMA). She has held an ALA membership for more than 14 years.
Pelayo-Lozada was APALA Executive Director (2019-2022) and is a past president of APALA (2016-2017). She is a past chair of the Palos Verdes (Rolling Estates, California) Library District's BUILD Team, focusing on diversity and racial equity, and a Center for the Study of Multicultural Children's Literature (CSMCL) board member (2012-present). She also is a 2011 ALA Emerging Leader. Pelayo-Lozada holds an MLIS and a BA in sociology from the University of California at Los Angeles (UCLA) and an AA in philosophy from El Camino College, Torrance, California.
Hinaleimoana Wong-Kalu
---
Hinaleimoana Wong-Kalu is a Native Hawaiian teacher, cultural practitioner, filmmaker, author, and transgender woman who uses digital media to protect and perpetuate Indigenous languages and traditions. She is a Native Hawaiian māhū, a traditional third-gender person who occupies "a place in the middle" between male and female and is traditionally seen as a caretaker, healer, and teacher of ancient traditions. Although māhū can be understood in an LGBTQIA+ context, it is more inclusive and fluid as it is a state of being in the ability to embrace both sides. This duality led to her winning more than a dozen awards, including the GLAAD Media Award for Outstanding Documentary. She is also a transgender health advocate and burial council chair.
Wong-Kalu is the composer of "Ku Haaheo E Kuu Hawaii," the internationally known anthem for the protection of Mauna Kea, which was honored as the Hawaiian Song of the Year at the 2020 Na Hoku Hanohano Awards, known as the Hawaiian Grammys. She began her film work as an advisor for award-winning films Kumu Hina and A Place in the Middle and received a National Education Association Human Rights Award, Native Hawaiian Educator of the Year, and White House Champion of Change Award for the groundbreaking impact campaigns associated with those films. She also produced the PBS/ARTE feature documentary Leitis in Waiting and the award-winning short Lady Eva about her transgender sisters in the Kingdom of Tonga.
In 2020, she directed, produced, and narrated Kapaemahu, an animated short film about four extraordinary māhū individuals of dual male and female spirit who brought healing arts from Tahiti to Hawaii. It premiered at the Tribeca Film Festival and won the Animayo Gran Canaria International Grand Jury Award, which led to a coveted spot on the 93rd Academy Awards' shortlist in the Animated Short Film category. Her first children's picture book, "Kapaemahu," available now, is based on the Academy Award-contending short film. With illuminating words and stunning illustrations by Wong-Kalu, Dean Hamer, Joe Wilson, and Daniel Sousa, "Kapaemahu" is a monument to an Indigenous Hawaiian legend and a classic in the making. It was awarded the Stonewall Honor and was a Lambda Literary Finalist.