In Conversation with Dr. Carla Hayden
Left to right:
Librarian of Congress, Dr. Carla Hayden
Obama Presidential Center Museum Director, Dr. Louise Bernard
Chicago Public Library Commissioner, Chris Brown
---
Sunday, June 25: 10:30AM―11:30AM, CT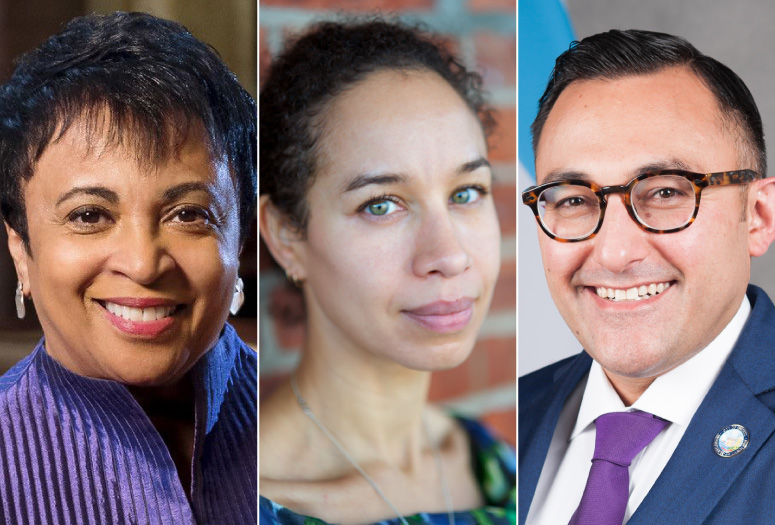 In Conversation
---
Join Librarian of Congress Dr. Carla Hayden, Director of the Obama Presidential Center Museum Dr. Louise Bernard, and Chicago Public Library Commissioner Chris Brown as they discuss the notable features and crucial role of the Obama Presidential Center in Chicago.
The Center represents a historic opportunity to build a world-class museum and public gathering space that celebrates our nation's first African American President and First Lady on the South Side of Chicago. Dedicated to the local community, it will be a place to reflect and grow, connect and create, and tap into one's own sense of purpose, while also creating jobs and economic opportunities that will unlock the potential that has always existed on the South Side of Chicago. It will be a place to honor history and where young people can write chapters of their own. And by tapping into the boundless talent of neighborhoods throughout Chicago, the Center will become a campus for the community, built in partnership with the community.
With numerous amenity features including acres of parkland, a children's playground area, large event spaces for performances, a broadcast and recording studio, and more, the Center will be a hub for collaborative learning, creativity, and innovation. A new branch of the Chicago Public Library will feature a community living room welcoming locals and tourists to socialize, engage and learn together with culturally rich collections and museum-like displays, vibrant maker spaces for families to create together, and a Presidential Reading Room making accessible the materials and artifacts that embody the President's values. This unique partnership is the first of its kind and will promote libraries as vibrant hubs empowering creators of all ages in shaping their cities and futures.
The Museum building at the Center will be a new landmark for the South Side, welcoming visitors to Jackson Park and marking the Center as a historic civic destination. Inside, exhibits will explore the fullness of the American story—from the promise of our founding documents to the movements that challenged us to live up to them. The Museum exhibits will tell the story of the volunteers who powered the Obama presidential campaign toward history and will examine the eight years of progress and hope that followed. The Obama Presidential Center eagerly awaits the arrival of visitors from all corners of the globe looking to discover the stories that have shaped our world and embark on an educational adventure like no other.
Carla Hayden
---
Dr. Carla Hayden was sworn in as the 14th Librarian of Congress on September 14, 2016. Hayden is the first woman and first African American to lead the national library. She was nominated to the position by President Barack Obama on February 24, 2016, and her nomination was confirmed by the U.S. Senate on July 13.
Prior to her latest post she served, since 1993, as CEO of the Enoch Pratt Free Library in Baltimore, Maryland. Hayden was nominated by President Obama to be a member of the National Museum and Library Services Board in January 2010 and was confirmed to that post by the Senate in June 2010. Prior to joining the Pratt Library, Hayden was deputy commissioner and chief librarian of the Chicago Public Library from 1991 to 1993. She was an assistant professor for Library and Information Science at the University of Pittsburgh from 1987 to 1991. Hayden was library services coordinator for the Museum of Science and Industry in Chicago from 1982 to 1987. She began her career with the Chicago Public Library as the young adult services coordinator from 1979 to 1982 and as a library associate and children's librarian from 1973 to 1979.
Hayden was president of the American Library Association from 2003 to 2004. In 1995, she was the first African American to receive Library Journal's Librarian of the Year Award in recognition of her outreach services at the Pratt Library, which included an after-school center for Baltimore teens offering homework assistance and college and career counseling. Hayden received a B.A. from Roosevelt University and an M.A. and Ph.D. from the Graduate Library School of the University of Chicago.
Dr. Louise Bernard
---
Dr. Louise Bernard is a Senior Vice President at the Obama Foundation and the founding Director of the Obama Presidential Center Museum. As a Senior Content Developer and Interpretive Planner in the New York office of the museum design firm Ralph Appelbaum Associates, she worked on the design team that developed the Smithsonian's National Museum of African American History and Culture, along with other national and international projects. She previously served as Director of Exhibitions at the New York Public Library, as Curator of Prose and Drama for the Yale Collection of American Literature at the Beinecke Rare Book and Manuscript Library at Yale University, and as Assistant Professor of English at Georgetown University. She received a BA Hons in Drama from the University of Manchester, an MA in Theatre History and an MA in English Literature from Indiana University, Bloomington, and a Ph.D. in African American Studies and American Studies from Yale. Her current research engages with the literary archive, material culture, museology, public history, and interpretive planning and design. She serves on the Advisory Council for the Johnson Publishing Company Archive, and is a recipient of the 2021 College of Arts and Sciences Distinguished Alumni Award from Indiana University.
Chris Brown
---
Chicago Public Library Commissioner Chris Brown is passionate about redefining what public libraries can bring to the communities they serve. This mission is particularly vital for CPL—its 81 locations make it one of the world's largest library systems.
Brown came to CPL in 2021 after more than a decade serving in Californian districts. Throughout his career, he has prioritized equity and the democratization of access to information, including nontraditional patrons and resources beyond traditional library materials. He is currently spearheading collaboration with neighborhood safety groups, City departments, and outside partners in order to establish safe spaces for youth. He has also initiated CPL's first organized analysis of its processes with the goal of improving equity for patrons. This work began with the opening of CPL's first regional library on Chicago's West Side since the 1970s.
Such leadership has earned Brown national recognition. He was named a Library Journal Mover & Shaker in 2016 and has received the Urban Libraries Council Top Innovator Award, the California Library Association PRExcellence Award, and a John Cotton Dana Award from the American Library Association in both California and Illinois. Most recently, he served on the California Library Association Board.