Promotion Toolkit for Exhibitors
Thank you for exhibiting at the ALA Annual Conference & Exhibition!
---
We're excited about your participation and we're sure that you are too!  And to see that your associates and clients are equally excited, we've assembled this toolkit to help you promote your booth and activities.
Note: The custom logo of the ALA Annual print and electronic materials are the property of the American Library Association and may not be used by other entities unless Show Management has approved the use in writing as part of a specific sponsorship program.
Use of logos in promoting your participation in ALA events should be directed towards your customers and attendees and is not to be used to solicit other companies/vendors. Acceptance of an exhibit space contract does not provide an endorsement of an exhibitor's products or services.
ALA Logos & Guidelines for Use
The logos of the American Library Association are ALA trademarks and may only be used by those who have received prior written permission from ALA for a specific use. This permission is usually granted based on a shared initiative or special relationship and requires a specific ALA or ALA division contact name. Refer to https://www.ala.org/aboutala/contactus/rights/logo-rules for logo use rules.
Ways to promote:
Add promotion copy to your prospects, clients, and colleagues via emails, newsletters, and blog posts.

Include banners, logos, and, web badges.

Post to your social media channels and be sure to use hashtag #ALAAC23

Help amplify our social media posts by retweeting or resharing. 

Follow us on our Twitter, Facebook, or Instagram channels. We'd love to see a retweet or a comment from you.
Bookmark this page and check back for future updates. As they become available, new resources will be added.
Questions? Contact Donna Hunter at [email protected].
If you have any questions, please complete the form at the end of this page or email Donna Hunter at [email protected].
In advance, many thanks from the ALA Conference Services team.
Web Badges
---
Perfect to add to your website, newsletters, email signatures, and more.
Social Media Graphics
---
Feel free to use these sample captions and use the graphics below when you reach out to your social networks on Twitter, Facebook, LinkedIn, or Instagram!
Sample Social Media Posts
---
Use any of the sample posts below and add graphics to get the word out to your social networks! You can copy and paste or get creative — just be sure to include any of the following links in your posts.
the website [https://2023.alaannual.org/]
the registration page [ https://2023.alaannual.org/registration/rates-and-registration ]
the conference scheduler [ To Come ]
---
Social Media Graphics Gallery
---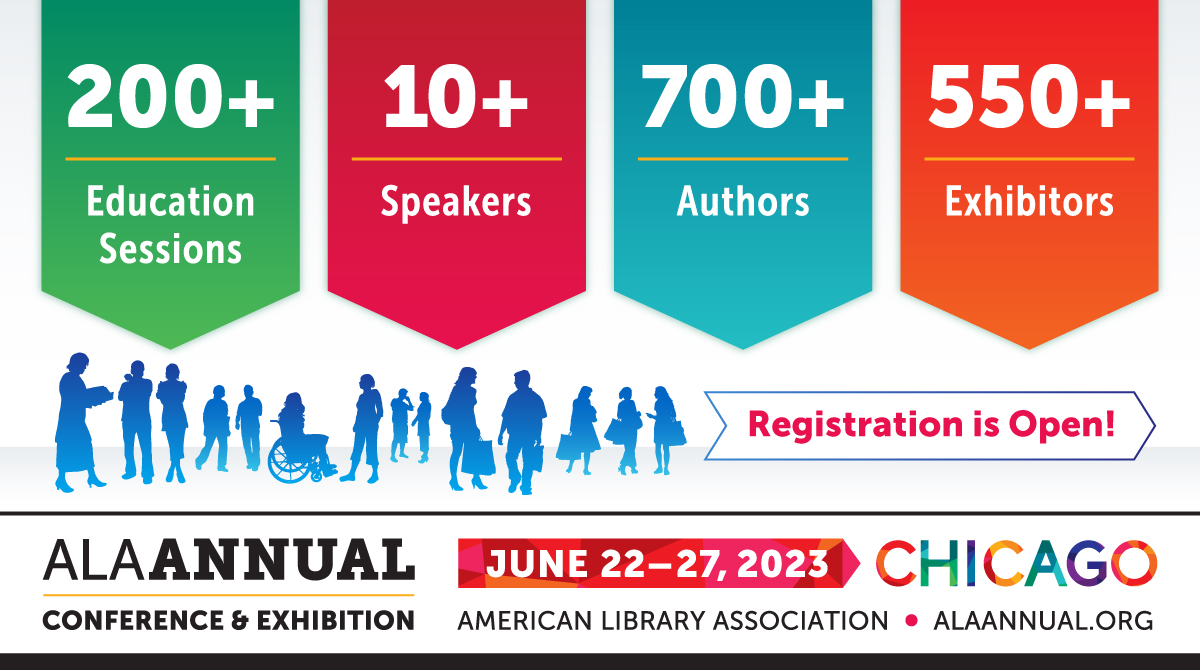 The social media gallery has a variety of campaign graphics available for Facebook/LinkedIn, Twitter, and Instagram – click for social media graphics.
---
Video Content
Also, consider recording a brief video to share with your network – nothing fancy! Make sure to tag ALA (@americanlibraryassociation) and send us an email that you have posted a video and we'll add it to our Instagram Stories.
Here's a sample script: Hi, I'm [name] [role]. I'm so excited about the ALA 2023 Annual Conference & Exhibition in Chicago! I have my eye on several key sessions and speakers, especially [name of session/speaker/event]. Don't forget to register with early rates through March 31. Head to alaannual.org and register today.
Logos & Banners
---
Logos can be added to your letters, emails, newsletters, and more.  Right-click on a logo below and click "Save image as" to add to your desktop.  Remember to add other information (registration link, discount offers, special notes, etc.) in the body of the email.  Note the actual sizes listed above each logo.
 
ALA - Horizontal Logo
 
Thumbnail Logo
Use as a small image for websites or email (150 pixels).

Square Logo  
Use for websites, social media, and emails (1080 pixels).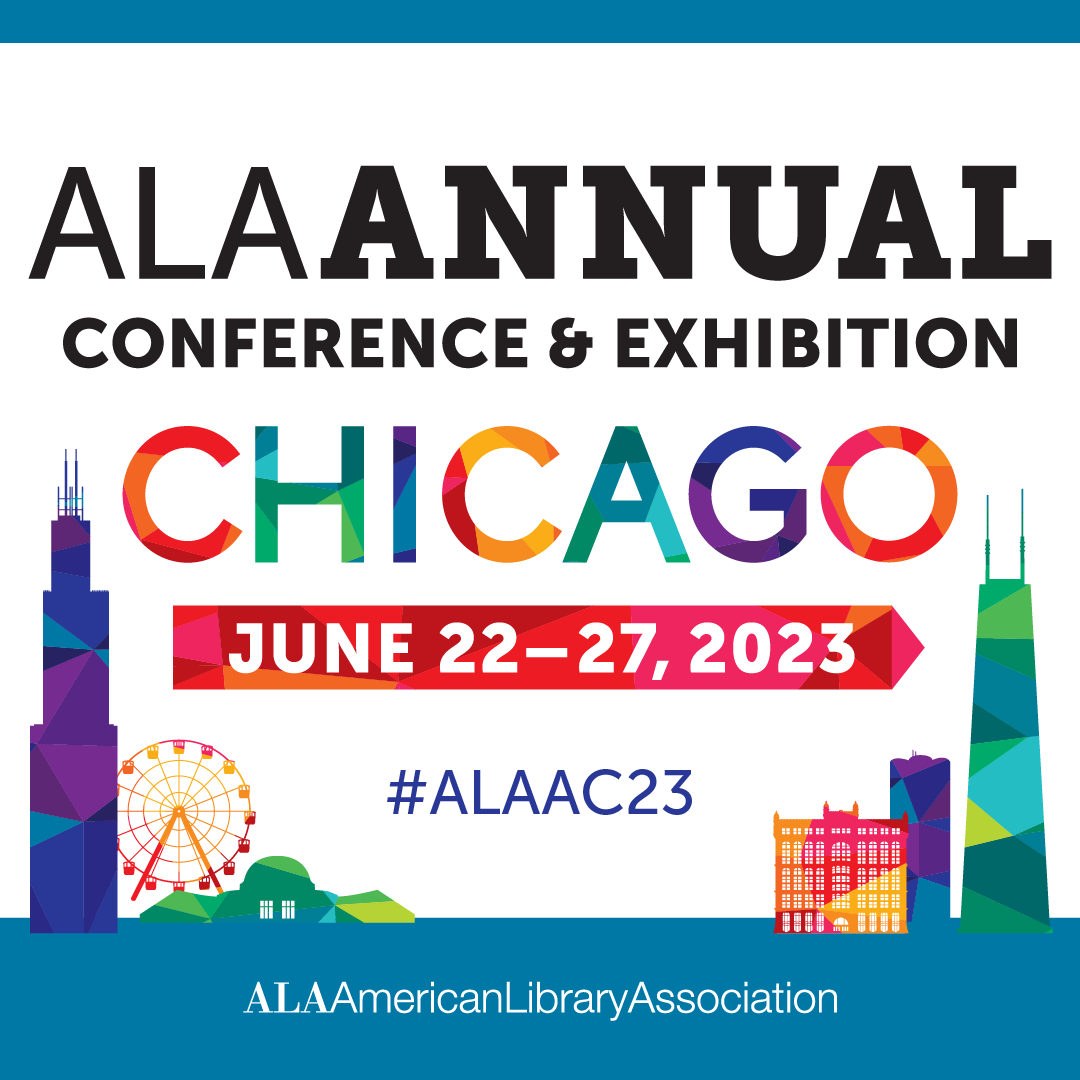 Horizontal Logo  
Use for letters, emails, digital graphics, and websites (1200 x 600 pixels).
Email Footer
320 x 70 pixels


Horizontal Banner
Use for letters, emails, newsletters, and websites (1000 x 250 pixels)

Vertical Banner
Use for letters, emails, newsletters, and websites (300 x 1200 pixels)

PowerPoint Templates for
Annual Conference & Exhibition Presentations
---
---
Links of Interest:
 
To Register: https://2023.alaannual.org/registration/rates-and-registration

FAQs:https://2023.alaannual.org/faqs

Community of Care at ALA Conferences: https://2023.alaannual.org/community-care-ala-conferences
---